Last month, I wrote about CdM, the new restaurant concept proposed this fall by A Restaurant partners Jordan Otterbein and McG under the umbrella of their company, River Jetty Restaurant Group.
CdM is moving to the old Crow Bar and Kitchen location on the coastal road in Corona del Mar. Restaurant chef Jonathan Blackford has been appointed corporate executive chef to guide both A Restaurant and the new CdM.
Otterbein told me that the Crow Bar space is being completely renovated. When diners enter the CdM, they come across a large rectangular bar in the middle of the restaurant with booths on either side, similar to A Restaurant.
CdM will serve upscale, creative American cuisine, but less steak-centric than A Restaurant.
"We wanted to do things that set us apart from other restaurants in the area," Chef Blackford told me. "We're going to have some homemade pasta, a pizza oven, stuff we can't do here at A Restaurant."
I recently had the opportunity to speak to McG, a popular film director and producer, about his new project.
"It was born of the Sea Kings and the Sailors," he joked, referring to the names of the Newport Harbor High School and Corona del Mar High School teams, the alma mater of McG and Otterbein. "About half of the people who walk into a restaurant are people from Newport Harbor, the other half are people from Corona del Mar."
"We want to provide a place where everyone is welcome," he continued. "We love the magic of a British pub, a kind of 'Cheers' culture."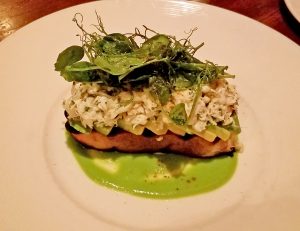 McG noted that while the ambiance of a restaurant is important, you're nothing without great food.
"Today everyone demands the best, so our food has to be great and the service has to be great and friendly," he said. "These are the three elements: atmosphere, food, service. Plus, we don't do this for profit, although we would love to be a dollar for the sake. We want to contribute to the community and exist for 100 years. Our goal is to provide an empowering experience for the community.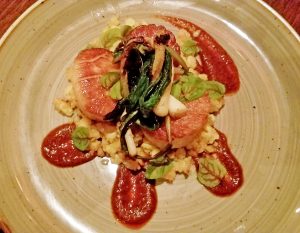 McG also praised Chef Jonathan Blackford, who he called "such a passionate guy at what he does." We support him and continue his gastronomic journeys. He is always interested in growing and learning, moving with the ever more demanding taste buds of our customers. Without this passion, you have nothing.
I recently had a sample of this passion when I dined at Restaurant A to see what Chef Jonathan was up to on his current menu.
I started with a Dungeness Crab Bruschetta ($ 17) with chilled crab salad, English pea puree, avocado, pea sprouts, lemon vinegar and old berry on ciabatta bread. . Wow, talk about a perfect combination of flavors. Maybe my new favorite appetizer. It is also a nice dish on the plate.
I followed the bruschetta with giant scallops ($ 34) with sweet corn cake and mashed peppers. Again, a fabulous dish with big, juicy scallops. The corn cake and mash were the perfect accompaniment.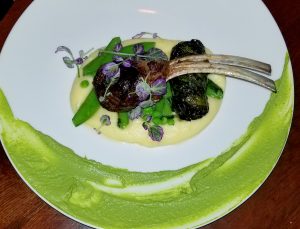 I finished with Colorado Spring Lamb ($ 48) with Swiss chard, potatoes, English peas, snow peas, mint, and a basil emulsion. Unlike some lambs I've had elsewhere, this one was perfectly cooked and seasoned.
The Pinot Noir Patz & Hall ($ 25 a glass) went well with all the dishes, but I was there on a Tuesday night and learned that all bottles on the wine list are half price on Tuesday, and after having looked through the wine list, i am ready to go back and try some new wines.
For more information, visit ARestaurantNB.com.